If either Tim or Jon are reading this, don't worry, the title is just a joke, mostly ;)
This morning I struggled with, what developed over the last 24 hours, a pulled back. Yesterday was quite uncomfortable shifting around in my office chair. The strain of the ill fitting high back exec chair sent me through the roof yesterday. Adding to my misery was a nigh spent in an easy chair as I fell asleep and couldn't wake up (until a 3:45 accident where my feet were pointed to the ceiling as my head and the back of the chair hit the floor - try picturing it). I put off my daily P90X workout in favor of a run (in the DFW heat) hoping to stretch out the pull and recover before heading off to work. No luck and I felt more miserable than before. To top it off, allergies are doing a number on my throat. All in all I concluded that working from home today would be a nice option.
Having resolved to begin the day at home, I went in search for my laptop bag en route to the easy chair, assuming a posture of work and watch as the
USA Men's World Cup
contingency work their magic against the bottom of the group Algerian team. Then it hit me: the bag with both PC and Mac were in the back of my wife's vehicle on its way to the
Dallas LDS Temple
and was not returning until lunch time.
So with only my iPhone (original and waiting for my new
iPhone 4
) in hand, and my corporate e-mail Inbox not functioning properly, I sent a note off, periodically checked my Inbox (no movement) and settled in for a nail-biting match.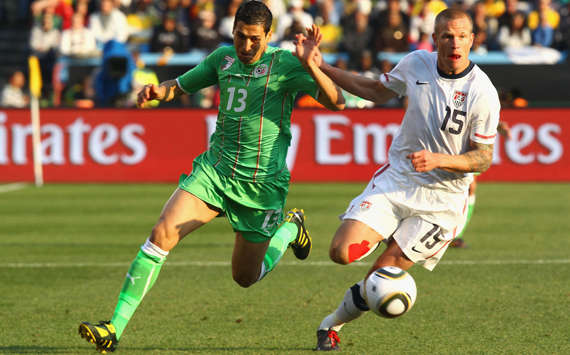 I'll let the pro's tell the full story, slanted or not, but let's just say that I was on the edge of my seat as the US came away with the win 90 seconds into extended play in the 2nd period. While Landon Donovan put the
"nail in the coffin"
it was the offensive pressure from Dempsey and Altidore that pushed Algeria the whole game. You also can't deny DeMerrit's defensive prowess as he shut down attack after attack, giving US their first
shutout match in World Cup since 2002
.
All the while I watched the game, it was incredibly enjoyable to keep tabs on the England v. Slovenia match via the iPhone
GOAL.com app
and for those of you that know me you'll know why.
So if my management is still reading this, note that I'll be working a bit later than normal and hopefully a little marketing can hide the sins of my subconscious.